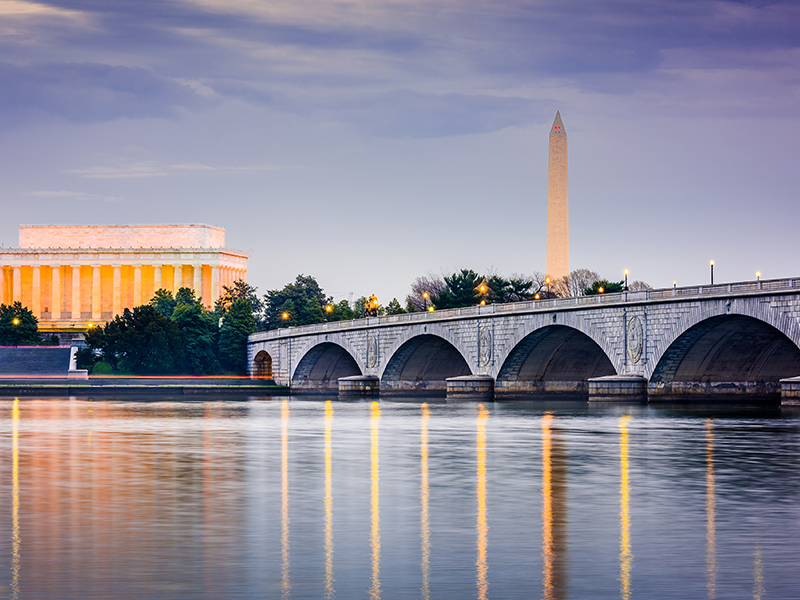 Arlington consistently ranks among the top places to live in the country and it's not hard to see why. The exceptional city stands out for its prime location (Washington, D.C. is only 5 miles away), its growing economy, outdoor recreational opportunities, and its diverse culinary scene. Arlington also draws people in because of its exceptional neighborhoods. From bustling urban centers to more laid-back communities, Arlington has neighborhoods that cater to various preferences and lifestyles.
Table of Contents
TOP NEIGHBORHOODS IN ARLINGTON, VIRGINIA
If you're looking for the best neighborhoods in Arlington, VA, these communities should be on your radar.
Ballston
One of the most sought-after places to live in Arlington, Ballston is a neighborhood that has it all: Walkability, green spaces, and a vibrant community. Ballston is also in demand because of its prime location. It's situated close to Clarendon, another popular Arlington neighborhood, and to major roads and highways.
Ballston residents have access to excellent public transportation options. There's a regional rail service and regional and local bus services. The neighborhood has designated bike lanes and it is relatively easy to rent a bike. All this being said Ballston is a very walkable community, and getting around on foot is a pleasure.
Ballston real estate
In Ballston, there are high-rise buildings, studios and one to three-bedroom apartments, townhouses, and single-family homes. Mixed-use developments, which are residential units integrated with commercial and retail spaces, are quickly becoming popular in Ballston as well.
Living in Ballston
As one of the best neighborhoods in Arlington, VA you'll find plenty to do here, with great options for shopping, dining, and entertainment.
The Ballston Quarter is a major shopping destination in the Washington metropolitan area. Covering around 580,000 square feet, this premier mixed-use center has something for everyone. Within their indoor and outdoor spaces, visitors will find major brands, local boutiques, casual eateries, upscale restaurants, and bowling areas, among others. For fresh produce, gourmet food, and artisanal goods, the Ballston Farmers Market at Welburn Square is a go-to for residents.
As for its dining scene, Ballston rarely disappoints. Discover the neighborhood's casual dining spots, high-end restaurants, and vegan-friendly establishments. Once the sun sets, Ballston transforms into a vibrant nightlife destination. Your nightlife options include trendy cocktail bars, late-night wine bars, live music, and comedy clubs.
Clarendon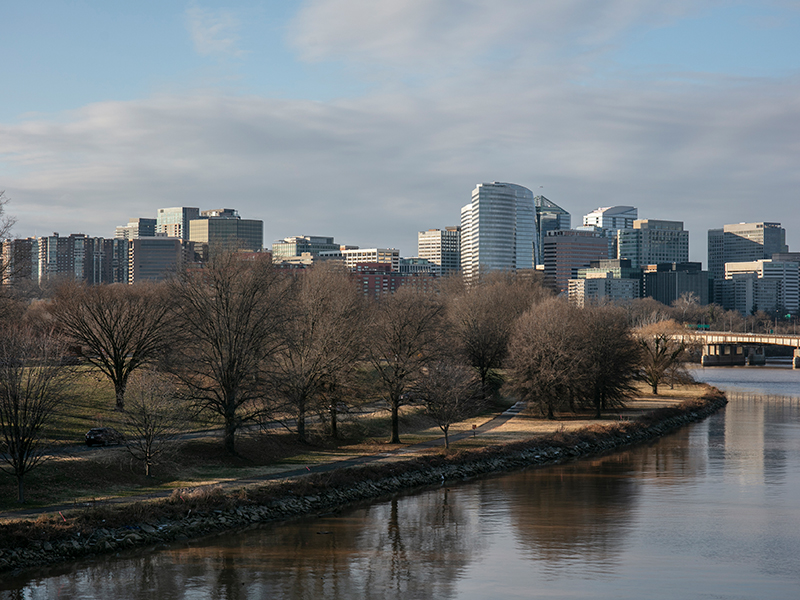 Another exceptional Arlington neighborhood is the lively village of Clarendon. The village thrives as a business district due to its bustling retail industry, a strong sense of community, and its strategic location. The neighborhood is situated right along the Washington Metro's Orange Line, a rapid transit line. In Clarendon, you don't need a car to run day-to-day errands. The neighborhood is highly walkable since many of its shops, restaurants, and entertainment options are easily reached on foot.
Clarendon real estate
Clarendon's real estate market is as diverse as the neighborhood itself. Apartment-style condominiums are plentiful and include contemporary studios to three-bedroom floor plans. High-rise and mid-rise condo buildings provide residents with great views and all the conveniences of city living. Looking for something different? Clarendon's housing market also includes single-family residences of Colonial, Ranch, and Contemporary architectural styles.
Living in Clarendon
Located on Clarendon Boulevard, The Crossing Clarendon is the preferred choice for all your shopping needs. It houses local retailers, fashion boutiques, specialty shops, and home decor stores.
The neighborhood's culinary landscape satisfies even the most discerning tastes. Well-loved Vietnamese restaurants, authentic Italian cuisine, and Irish pubs are just some of the delights you can expect from Clarendon's dining scene.
What makes Clarendon one of the best neighborhoods in Arlington, VA is its community events. The neighborhood hosts a variety of special occasions throughout the year. Clarendon Day, a one-day street festival filled with art, music, and food, is among its biggest celebrations. The Arlington Festival of the Arts is another much-awaited event, featuring hand-made local art from various mediums. The Armed Forces Cycling Classic is also held in Clarendon. This annual race welcomes all cycling enthusiasts, from casual bikers to professional athletes.
Courthouse
Located in the northeastern portion of Arlington, Courthouse is a neighborhood that has the best of both worlds: A quiet and peaceful atmosphere combined with urban conveniences. As the name suggests, Courthouse is home to the Arlington Courthouse, along with the county's other administrative and judicial buildings. While Courthouse may be the civic center of Arlington, there's more to it than its government offices.
Courthouse is a thriving neighborhood that's easy to access. Residents will have no trouble getting to Washington, D.C., and other parts of the area through the Orange and Silver Lines of the Metrorail. Major roads and highways like Highway 66, Route 50, and Washington Boulevard are within easy reach as well.
Courthouse real estate
The real estate properties in Courthouse are mostly condominiums, townhouses, and other multi-family properties. These properties are conveniently located—just minutes away from the restaurants, shops, grocery stores, and the Metrorail. Some multi-family residences are also integrated into mixed-use developments.
Living in Courthouse
Courthouse is a great location for outdoor enthusiasts. Rocky Run Park is an award-winning two-acre space with something for everyone. Aside from the basketball courts, picnic areas, and open green spaces, Rocky Run Park also has a large climbing structure complete with slides and rope bridges.
Courthouse Plaza is the neighborhood's main gathering space, a residential and commercial center with restaurants, shops, and movie theaters. On Saturdays, Courthouse Plaza comes alive with the lively atmosphere of the farmers market. Here you'll find a wide selection of fresh fruits, seasonal produce, and artisanal products. Another popular shopping spot in Courthouse is the Urban Village Market. Also held on Saturdays, this weekend market has all sorts of unique finds, from vintage clothing to antique cameras.
Crystal City
Known for its high volume of commercial activity, Crystal City is a hub for technology and innovation. It's the largest downtown in Arlington and is home to Amazon's second headquarters (HQ2). Because of its location near the Potomac River and the Pentagon, Crystal City also has some of the best views of Washington, D.C.
Crystal City is regarded as an underground city because of its extensive network of walkways. Aside from giving commuters and residents easy access to the Crystal City Metro station, these climate-controlled walkways are also home to various shops, restaurants, and other attractions.
Crystal City real estate
The neighborhood offers a diverse selection of multi-family properties comprising high-rises, condominium complexes, and apartment buildings. From luxurious penthouses to innovative mixed-use developments, buyers have a wide range of properties to choose from. With most Crystal City residences, you can expect thoughtfully-designed floor plans, upgraded homes, and easy access to shopping, dining, and entertainment establishments.
Living in Crystal City
Crystal City is one of the best neighborhoods in Arlington, VA to call home because of its vibrant community and diverse amenities. The neighborhood's dining scene offers an array of different flavors. Head to 23rd Street and you'll discover Restaurant Row, a main thoroughfare lined with casual eateries and fine dining spots. The neighborhood's nightlife scene also has something for everyone. Other than the different bars and pubs in the neighborhood, Crystal City has venues that offer live music performances and comedy shows.
Don't miss out on visiting Gallery Underground. This premier space has rotating art exhibits curated by members of the Arlington Artists Alliance. The pieces featured here include sculptures, oil paintings, ceramics, and mixed media.
Rosslyn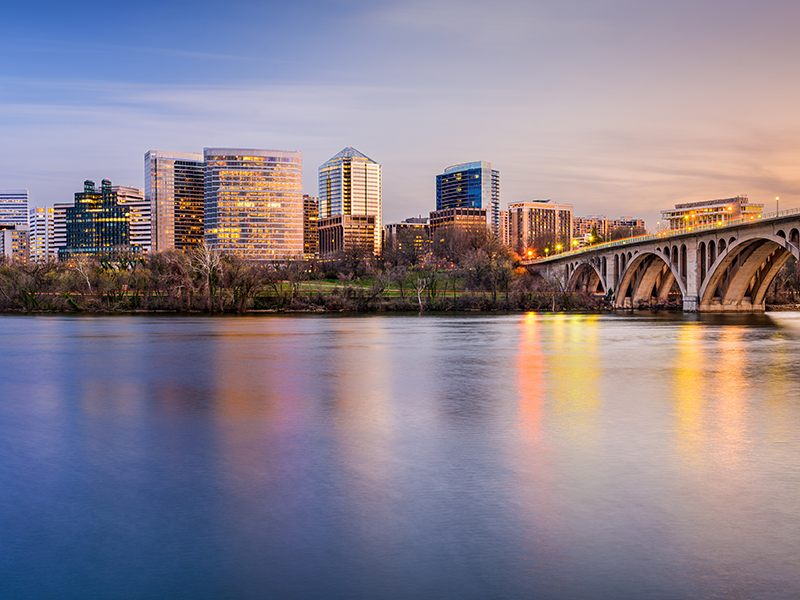 Like Crystal City,  Rosslyn is also a commercial hub. It's home to several Fortune 500 companies like Nestle, Microsoft, and Deloitte. However, it is starting to emerge as a very desirable residential area too with excellent public transportation and plenty of outdoor recreational opportunities.
Rosslyn real estate
Condominiums make up the majority of Rosslyn's real estate landscape. Ultra-luxurious condominiums, modern buildings, and loft-style apartments are some of the amazing properties that you'll find here. Regardless of the Rosslyn property you pick, you'll be close to great places to shop, eat out and have fun.
Living in Rosslyn
Rosslyn is the perfect place for runners, bikers, and outdoor enthusiasts with its extensive network of trails and bike-friendly routes. These urban trails weave through the neighborhood and lead you out to well-known parks, routes, and neighborhoods. The 4.5-mile Custis Trail is the most popular one, giving cyclists picturesque views of the surrounding area.
Gateway Park is Rosslyn's own urban oasis. Covering around three acres, the park is a beautiful outdoor space that's often used for various community events and activities. The Rosslyn Jazz Festival, an annual event with fantastic musical acts, is held here.
Rosslyn's diverse food scene features a wide array of cuisines, from Southeast Asian fare to authentic Italian dishes. Rosslyn's nightlife scene is as diverse as its restaurants. The neighborhood has hidden gems (think speakeasy-inspired bars) and outdoor beer gardens.
DETERMINING WHICH NEIGHBORHOOD IS RIGHT FOR YOU
Now that we've listed some of the best neighborhoods in Arlington, VA it should be a little clearer which may be more your type of place to relocate. One particular neighborhood might stand out and prompt you to research further. As you do so bear these factors in mind:
Research the neighborhood's housing market and trends
A part of choosing the right neighborhood is knowing the current values of the properties in it. Even within a small area, there can be significant differences in how the real estate has performed in the last few years and while Arlington is relatively stable on the whole, you may want to know which specific areas enjoy particularly strong appreciation and which are generally more steady.
Be flexible

It frequently happens (especially with luxury properties) that you see a house and fall in love with it. During this time, you may feel that you have to have that particular house or else all will have been in vain. This is not the case. You're never guaranteed to land a home as it might be snapped up by another bidder. However, there are many luxury properties in Arlington, in many great communities. There will be something that will be a great match for you.

Staying within budget

You may be in a position to buy a luxury home in Arlington in terms of meeting the initial financial requirements such, as getting approved for a loan and laying down earnest money but it's always prudent to have a little extra to act as a buffer. You may want to make a few amendments or repairs to the home, or you may find that moving, and all its implications are going to cost you more than what you had set aside.

While sticking to hard rules such as not going a dime above your allotted budget when bidding for a home is generally a good rule, a little more over to secure a home may be feasible. Bidding a lot more is almost always a bad idea. Doing so can leave you with an uphill struggle that turns your dream move into a nightmare.

Visit the neighborhood

There's no better way to learn more about a neighborhood than by seeing it in person. Visiting a neighborhood before buying a home allows you to assess its amenities, observe its surroundings, and get a feel of the community.

Consult with a local real estate agent

Although this may sound self-serving, we believe it is always in a buyer's interest to get the help of local real estate agents. The inside knowledge of the area, their deep understanding of the local housing market, the administrative and negotiation skills they bring, and their access to a network of trusted professionals means that you have a much easier and better buying journey, with a greater chance of a getting exactly what you want.
DISCOVER YOUR DREAM ARLINGTON NEIGHBORHOOD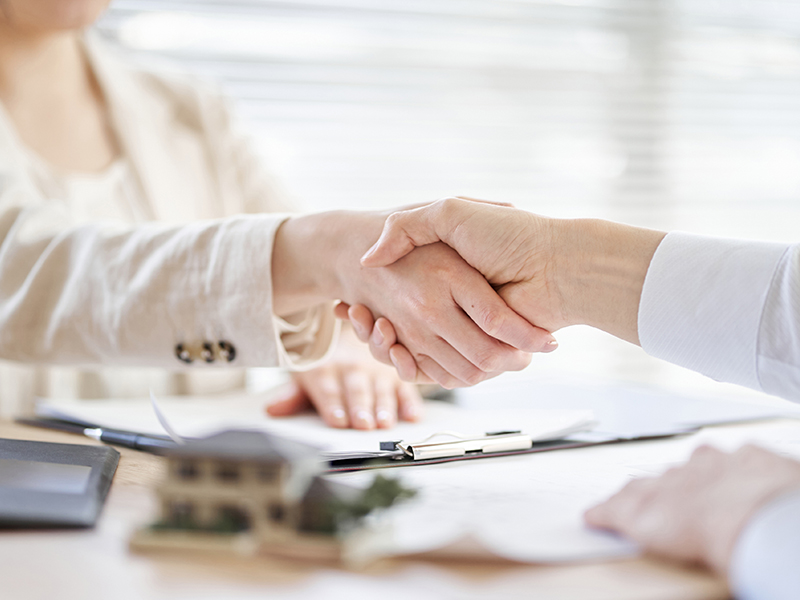 Explore the best neighborhoods in Arlington, VA with me, Ariana Loucas. My extensive real estate experience and knowledge of the different areas in Arlington can guide you to the community that suits you best.
Get in touch with me at 301.728.1418 or send an email and let's start your journey to a fantastic home in Arlington.