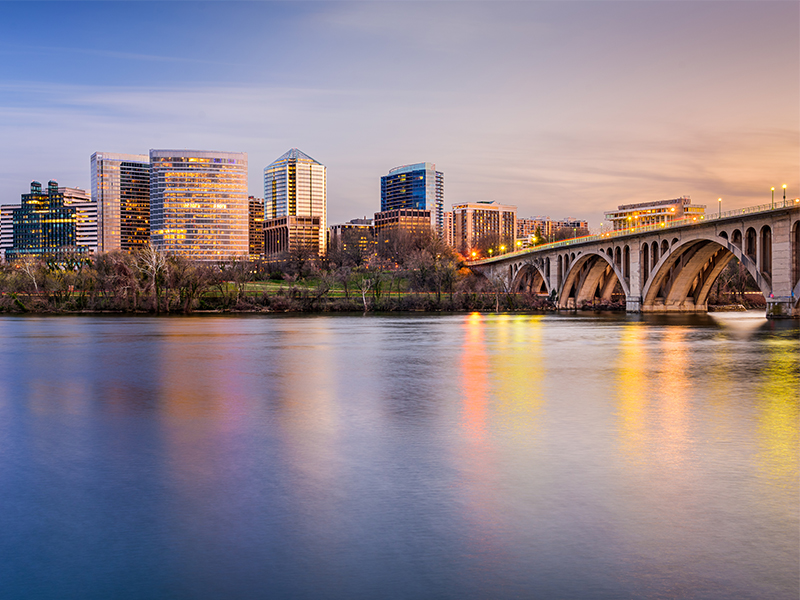 Covering about 26 square miles of riverfront in Northern Virginia, Arlington is, without a doubt, one of the best places to live in the Washington metropolitan area.
While it stands shoulder-to-shoulder with the capital, Arlington is not overshadowed by its sophisticated neighbor. In fact, it shines. Many federal headquarters and offices are located here, along with some of the nation's top universities and biggest employers. Making Arlington even more colorful and exciting are its neighborhoods and "urban villages." Each of these communities have their own distinct highlights, but some are simply better than others.
Continue reading to learn more about the top neighborhoods in Arlington, VA, as well as the benefits of living in one.
Table of Contents
LIVING IN ARLINGTON, VA: A SNAPSHOT
Arlington County—and the census-designated place it's coextensive with—is something like Washington, D.C.'s little brother. It's situated just across the Potomac River and greatly benefits from its proximity to the nation's capital.
Almost every big-city service and amenity available in Washington, D.C. is easily accessible from Arlington. On top of that, the city serves as the gateway to Northern Virginia. If you want wineries, rustic country living, and a change of scenery, just head west.
As of 2022 census estimates, about 234,000 people live in Arlington. You can expect the local population to be diverse, educated, and well-employed. If they're not working in the city, they most likely have a career in Washington, D.C
Arlington County is located near Georgetown University and George Washington University (both in Washington, D.C.), as well as George Mason University in Fairfax. That said, Arlington has its fair share of stellar institutions. Marymount University is within county limits. So is the satellite campus of George Mason University, which houses its law, public policy, and peace and conflict colleges.
THE TOP NEIGHBORHOODS IN ARLINGTON, VA
Arlington is home to over 30 neighborhoods and urban villages. Some of these communities showcase a mix of urban and suburban living, while others are quieter and more residential. Below are the best neighborhoods to live in Arlington and why they're considered so.
Colonial Village
Sandwiched between Rosslyn and Courthouse is the country's oldest FHA-insured rental housing project: Colonial Village. It was built sometime around the late 1930s and early 1940s and is a designated National Historic Site.
Colonial Village is composed of over 200 garden-style apartment buildings, many of which are offered below market rate. This makes Colonial Village integral to Arlington's efforts of providing affordable housing. Average prices range from as low as $350,000 to $1.4 million or more.
Residents are a stone's throw away from Georgetown and less than an hour's drive to Capitol Hill. For young professionals looking for affordable real estate options, Colonial Village is a great place to start.
Ballston-Virginia Square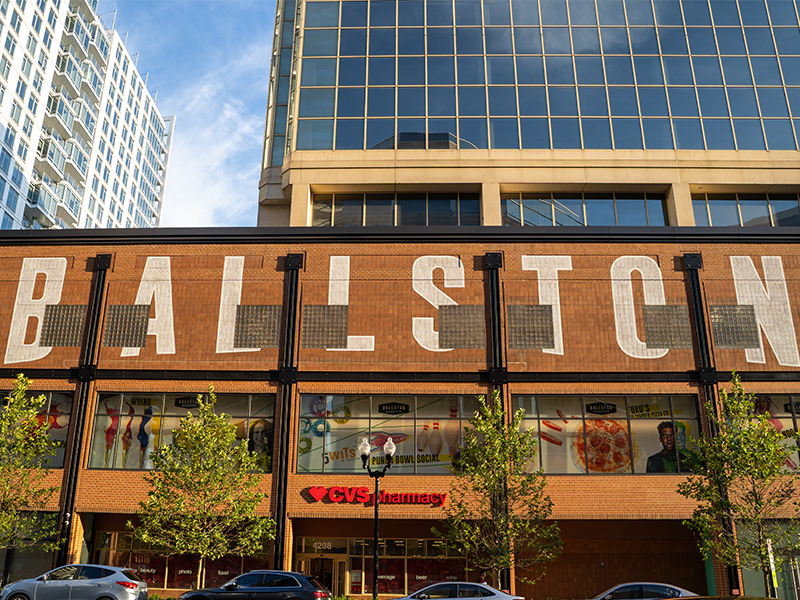 Ballston-Virginia Square may be one of the most accessible neighborhoods in Arlington. That's because two Metro stations are located here: Ballston and Virginia Square (hence the area's name). It also helps that it's located smack dab in the heart of Arlington.
Of the two areas, Ballston is the livelier section. It's both a local center for research and university town, with several university campuses located in the area.
But it's not all work and study in Ballston. Its centerpiece is Ballston Quarter, the local retail destination. Tons of restaurants can be found in the neighborhood, as well as various gyms and fitness studios. At night, Ballston becomes party central with Crafthouse Arlington and Punch Bowl Social.
On the other hand, Virginia Square is more relaxed and subdued. This area is more residential, anchored by the four-acre Quincy Park. It's one of the local go-tos if you want to people-watch, play sports, or just let the neighborhood kids play. George Mason University's Mason Square is also located here, along with three of its sterling colleges. That includes the Antonin Scalia Law School.
Together, the Ballston-Virginia Square area offers apartments, condos, and townhouses in varying price points. Expect to pay anywhere between $500,000 to $2.5 million or more if you want to purchase a home here. That price tag comes with convenient access to public transit, top public schools and universities, and excellent dining and retail options.
Bluemont
Over at Bluemont, living in Arlington, VA takes a more suburban turn. It's one of the larger communities in the county, where homeowners significantly outnumber renters. Most of the housing options here are single-family homes and townhouses – perfect for anyone who wants space as well as room to grow. Whether you're after an older property or newer construction, you'll find a home here.
Bluemont is located just west of Ballston-Virginia Square, across N. Glebe Road. So, it's quite fascinating to see the landscape change from bustling urban to relaxed suburban as you go from east to west. Bluemont's central location means you're only a quick drive or short train ride to Arlington's main hubs, while also being surrounded by outdoor spaces and parks you can explore whenever. Curtis Memorial Parkway cuts through the neighborhood.
Since the majority of residential real estate in Bluemont are detached properties, expect to pay more. Home prices in the neighborhood swing from $800,000 to well over $2 million.
North Rosslyn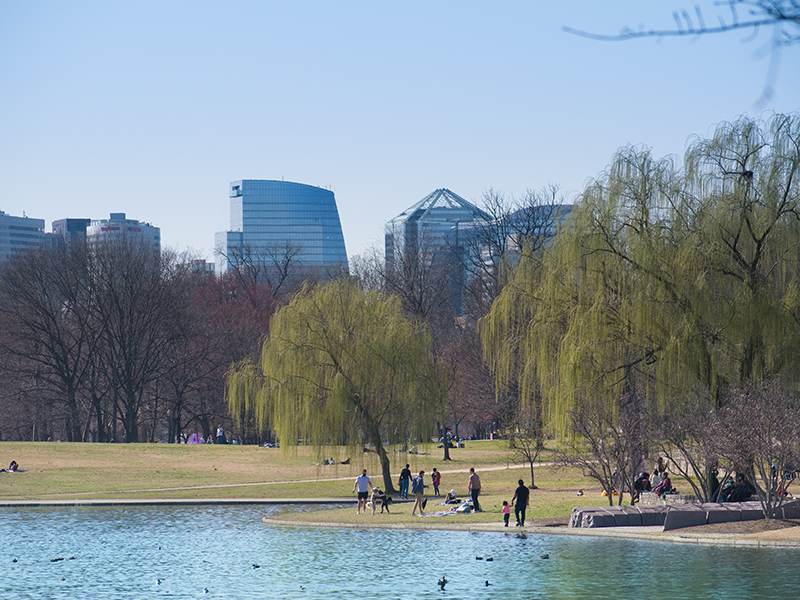 North Rosslyn sits comfortably in a scenic corner of Arlington: by the Potomac River and with front-row seats to views of Washington, D.C. and Theodore Roosevelt Island. Such a location makes North Rosslyn a hotspot for anyone who wants to live as close as possible to the capital.
You can enjoy an urban living experience in the neighborhood, thanks to its collection of high-rise condominiums, which arguably offer some of the best views in Arlington. Tony townhomes can also be found here— a fantastic option if you're not keen on condo living. That said, times are changing in North Rosslyn. Expect more mixed-use and public spaces in the near future, which will add more excitement and options to the local real estate market.
But for now, North Rosslyn ranks as one of Arlington's pricier neighborhoods. Its riverfront location and proximity to Washington, D.C. drive home prices in the area, which range from $600,000 to $3 million or more. It's typical for the price per square foot in North Rosslyn to hover around $1,000 per sq. ft.
Unbeatable location and sought-after residential real estate are not the only things you'll be enjoying in North Rosslyn, however. The quality of life here is simply supreme. You'll have access to acres of parkland, as well as a great selection of local restaurants. Rosslyn Station is right in the area, ready to take you just about anywhere.
Dominion Hills
From Bluemont, the suburban theme continues as you head further west and into Dominion Hills. As it's surrounded by a number of major roads and thoroughfares, the neighborhood is a wonderful choice if you're constantly on the go. I-66 and Wilson Boulevard are some of Dominion Hills' boundaries, which allows you to travel to Washington, D.C with great ease.
The area is laced with parks and green spaces. At the eastern corner of Dominion Hills is the 24-acre Bon Air Park, which is home to the smaller Dominion Hills Park and rose garden, where you can find over 120 rose varieties. In the same area is Four Mile Run River. It's followed by the nearly seven-mile Four Mile Run trail, a paved path that's open for walking, cycling, and inline skating. From Dominion Hills, you're only about a 30-minute train ride or 15-minute bike ride away from the revered halls of Mason Square's college campuses.
As for real estate, Dominion Hills' tree-lined streets are home to beautiful Colonial-style single-family residences, which run from $900,000 to $1.5 million or more.
Donaldson Run
Donaldson Run is just what you'd expect for a neighborhood where the main highlight is a 30-acre woodland park. It's a green and incredibly lush section of north Arlington.
In this tranquil setting, you'll find a housing market full of beautiful homes, ranging from older but updated properties dating back to the 1940s to more recent contemporary residences. An array of different architectural styles are also on display, including traditional ramblers and Colonials—the two most popular styles in Donaldson Run— and cozy Cape Cod homes.
Donaldson Run's park-like environment and great selection of upscale properties make it one of the most sought-after places to live in Arlington. Home prices start at around $1 million and can go well over $3 million. That comes with a family-friendly lifestyle in a tight-knit community, just a short drive from Marymount University, Potomac Overlook Regional Park, and the Donaldson Run Trail. Some amenities are also available, including a recreation center and swimming pool.
Potomac Overlook Regional Park is a special place to be no matter the season. It covers 67 acres of woodlands, with miles of trails you can explore. In the summer, the park plays host to numerous nature and kiddie camps, and from time to time, intimate outdoor concerts.
In a nutshell, Donaldson Run is ideal for anyone who wants to enjoy a balanced lifestyle while being minutes away from Washington, D.C.
Waycroft-Woodlawn
Waycroft-Woodlawn in north-central Arlington is known for being a peaceful neighborhood, despite being close to the Virginia Hospital Center. I-66 and Glebe Road are two of the main access points, which can take you just about anywhere in the Washington metro area and Northern Virginia. If you prefer to take the public transit, you're just a hop and skip away from several metro stations.
As you explore the local housing market, you'll find single-family homes and cottages in a wide selection of architectural styles, including Colonial, rambler, and Cape Cod. Home prices in Waycroft-Woodlawn range from $1.2 million to $2.3 million and more.
At the center of the neighborhood is Woodlawn Park. Although it's on the smaller side (it only covers about an acre of land), the park is packed with amenities, including a playground and half basketball court. A small stream called Lubber Run flows through parts of Woodlawn Park and into Ballston Beaver Pond.
A larger park, Lacey Woods Park, is just outside Waycroft-Woodlawn. Like its smaller neighbor, it has a playground and picnic facilities, as well as a full basketball court, multi-use field, and wooded areas. Nature trails weave throughout the entire park if you want to meet or exceed your daily step goal
Aurora Highlands
Tucked away in southeast Arlington, Aurora Highlands is well-regarded as a highly walkable neighborhood. If you're just exploring the area, you can leave your car at home and walk its tree-lined streets, from Pentagon City to South Glebe Road. Richmond Highway and Shirley Memorial Highway are east and north of Aurora Highlands, respectively, for those who prefer to drive. But if you'd rather take the metro, there are stations in Pentagon City and Crystal City.
Apart from having a high walk score, Aurora Highlands is famed for its eccentric housing market. This is the neighborhood to explore if you're after a unique home, oozing with character. You can find properties that date back to the late 19th century as well as more recent construction. Single-family homes are plentiful, but so are townhomes, apartments, and condominiums. Residential properties in Aurora Highlands are so coveted that it's commonplace for a home here to sell for an average of $1.1 million.
Besides walkability and an exciting housing market, there are more things to love about living in Aurora Highlands, Arlington, VA. Virginia Highlands Park covers about 20 acres of the community and puts every square foot to good use. The park features several amenities, including various sports facilities, a community field, pétanque courts, and a dedicated sprayground. Virginia Highlands Park is also home to the Highlands Urban Garden.
Aurora Highlands is also located close to a bevy of fantastic dining options. These include McNamara's Pub and Restaurant and Bonsai Grill in Crystal City.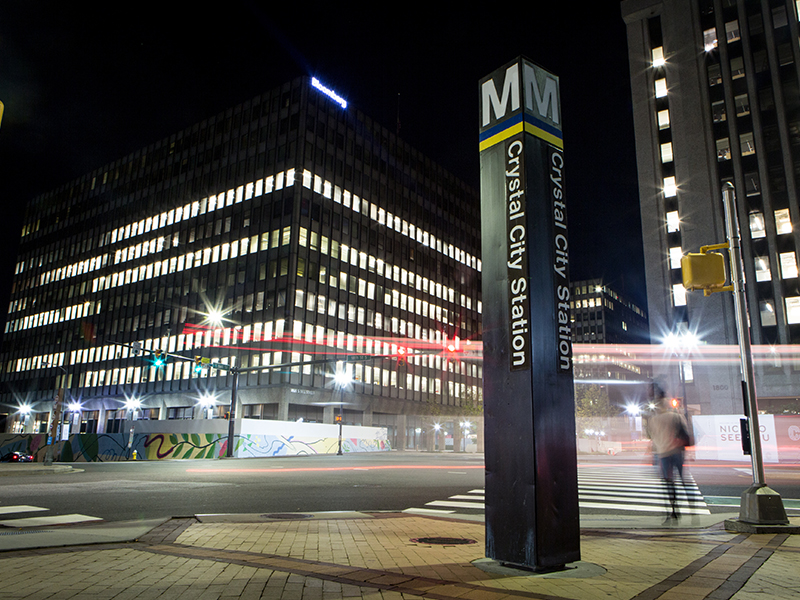 WHAT MAKES THESE NEIGHBORHOODS GREAT PLACES TO LIVE?
Here are a few more factors that make Arlington's top neighborhoods highly sought after.
Annual events – The best way to feel the community spirit is through annual events. Top neighborhoods in Arlington tend to host some of the city's best known festivities.
From Aurora Highlands, for instance, you're minutes away from Pink in the Park, Arlington's cherry blossom festival. North Rosslyn is home to the annual Rosslyn Jazz Fest and Rosslyn Cinema, both of which are held at the neighborhood's Gateway Park. And if you want to join the Arlington Turkey Trot, it's only a short distance away from Ballston-Virginia Square.
Great schools – While the city has no shortage of top-performing public schools and respected colleges, the best of the best tend to be in or near Arlington's top neighborhoods. Take Ballston-Virginia Square, for instance, where you can find three of George Mason University's prestigious college departments. And if you live in Donaldson Run, Marymount University is only a stone's throw away.
Daytime adventures and nighttime excursions – You'll find a great variety of attractions and activities in Arlington's top neighborhoods. And if these sites are not located within the community bounds, they're most likely a short walk or train ride away.
Accessibility – One of the most noticeable common denominators among Arlington's top neighborhoods is their proximity to public transit options, if not convenience and walkability. If living in a place where recreation, dining, retail, and nightlife are all a few minutes away from you sounds perfect, what else is there to consider?
EXPERIENCE THE MYRIAD BENEFITS OF LIVING IN ARLINGTON, VA
I'm Ariana Loucas, a 5-star rated Realtor with in-depth knowledge of the real estate markets in Washington, D.C., Virginia, and my home state, Maryland. Having lived in various parts of the Washington, D.C. metro area, I have first-hand experience of what it's like to search for the community —and home— that matches your lifestyle.
It would be an honor to help you explore your real estate opportunities in Arlington, VA. Let's start by chatting! Call me at 301.728.1418 or send me an email when you're ready.